Writing our first press release was a HUGE step for us! We are so excited, and hope to gain a little publicity! Check it out! :D
California's Urban Homes Becoming More Sustainable with Chickens Delivered to their Front Door by Dare 2 Dream Farms
Dare 2 Dream Farms, LLC, a small family owned and operated poultry farm on the Central Coast is helping urban homes attain their green dreams one chicken delivery at a time.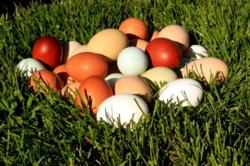 We want to make it easy for people to start their own backyard flocks with healthy chickens.... Delivering the chickens to our clients just makes sense."
Lompoc, CA (PRWEB) May 17, 2011
For California's suburban residents who are enriching their homes and lifestyles to become more sustainable, local, and organic, chickens are the perfect addition. Unfortunately, finding the time to travel to a poultry farm located nearly half a state away is difficult; and finding a quality poultry farm in or around the city is nearly impossible. Dare 2 Dream Farms is pleased to announce they are making it much easier to start a backyard flock by delivering chickens to the Greater Los Angeles and San Francisco areas.
The farm is coordinating a trip at least once a month to deliver the chickens for only $20 per delivery. The delivery dates are posted on their Facebook page and their website at
http://www.Dare2DreamFarms.com
, along with tons of valuable information about the breeds they have available, and caring for a backyard flock. For beginners, Dare 2 Dream Farms also carries poultry supplies, and offers to build custom chicken coops.
Dare 2 Dream Farms is located in Lompoc, on the Central Coast of California. For nearly two years, they have been raising and selling truly free-range, or pastured chickens, and also selling the eggs to their local natural marketplaces: New Frontiers and Isla Vista Food Co-op. The farm's dedication to allowing chickens to live the way they were naturally intended has helped them develop a huge following. However, since it is approximately three hours from the Greater Los Angeles Area, and five hours from the Bay Area, it is a huge trip for individuals to drive to the farm to buy their chickens. The farm's Co-Owner, Megan Coulter says, "We want to make it easy for people to start their own backyard flocks with healthy chickens. Plus, the carbon footprint of one trip to Los Angeles or San Francisco for twenty homes is significantly smaller than twenty trips from either city to us. Delivering the chickens to our clients just makes sense."
As the green movement picks up momentum, families, schools, and communities are finding ways to incorporate chickens into their plans to become more sustainable. Since the 'chicken craze' began, over 500 cities across the United States have changed their city ordinances to allow backyard chickens. Websites, networks, and forums such as BackyardChickens.com and the Los Angeles Urban Chicken Enthusiasts Meet-up Group have boomed with new members.
Jeremy Raff-Reynolds, the farm's other Co-Owner, says, "Chickens are an awesome addition to urban backyards because in addition to providing delicious fresh eggs every morning, they also provide their homes with chemical free pesticide, an abundant source of the world's best-known fertilizer, and unique personalities that bring joy to their owners." That's living in harmony!